The main facilitator, Liv Mokai Wheeler, has created an ancestral healing training for those who are feeling called to facilitate ceremony, the ceremonial leader that would like to support ancestral lineages. Together, we will break down and create the energy that helps souls transition to become fully healthy ancestors. We will bring to life songs of your lineage once more.
The focus will be to make space for your own personal medicine to come forth as the ceremony you create will be an expression of your essence. The intention is to create space and healing and transformation such that each person leaves inspired and able to create a ritual or ceremony for community or infuse what you've learned into what you already offer.
During the training, we will also be engaging in the energies of creativity. There will be an emphasis on music and drawing a song from each person to be worked with in ceremony. We will look at what comes up to block people from ritual and transformation, such as entities and beings with energy that does not have healing or our best interests in mind. We will be in dialogue about how to navigate these energies and put this into practice together. There will also be a cultural inclusivity circle, drum birthing, and sound healing ceremonies so as to hold space for the dynamic energies of this work.
Liv recently decided to share a little more deeply about the journey, via audio recording, now that she can sense more deeply into the energies of the gathering.

Included in Bringing to Life Songs of Your Lineage: An Ancestor Healing Training-
All Ancestor Healing Training ceremonies, rituals, and teachings with Liv Mokai Wheeler
All-night vigil
Kontomble Divination
Divination with Liv Mokai Wheeler focused on your personal ancestry
Music and Ancestral Song Ceremony
Cultural Inclusivity Ceremony with Natalie
Drum Birthing Ceremony making a 16 inch elk drum with Mia
Daily yoga classes with Sylvie
An individual healing session with Florencia
Sound Healing Ceremony with Florencia
All pick up and return travel including transportation to and from the airport
All meals made with local and organic ingredients and drinking water
Accommodation for 6 nights
CocoVivo Retreat Center:
The retreat center and land that will hold us has been sought after and chosen with great mindfulness and love. The clear energy there will be supportive to our work. The land is lovingly tended by a family that holds space for inclusivity and sensitivity to environmental impact. The land is in the jungle and the animals and the other living beings there are protected and honored.
CocoVivo, our home for the duration of our journey, is hidden at the southern tip of Isle de San Cristobal outside of Boca del Toro, Panama. The only way to get to the island is by boat. Their goal is to acknowledge human's impact on the earth and the ocean, and they strive to maintain a healthy role in the ecosystem. The retreat runs off of solar power, the water used is from collected rainwater, there is composting toilets, gardens, and mindfulness placed on recycling and low to no waste and biodegradable products- including soaps.
CocoVivo also maintains strong relationships with the local community of Tierra Oscurra, by providing employment opportunities, purchasing local produce, and offering housing space to local Ngobe Bugle workers and tradespeople. They aim to support and strengthen the regional development and standard of living while remaining open to learning new ways of interacting with nature with awe and gratitude, and of decreasing the destructive impact.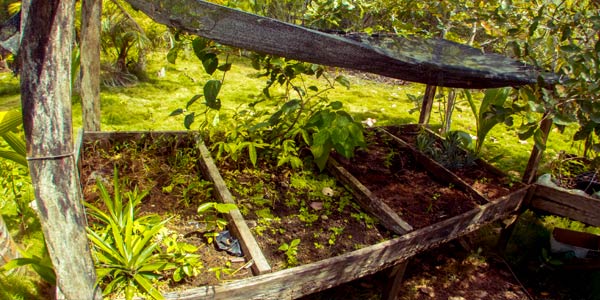 Sleeping arrangements will be assigned and sharing beds with another attendee is a likelihood. Upon registration, you will be given the opportunity to express your preferences in how you'll be assigned a space.
Liv Mokai Wheeler is an International Ritual Facilitator mostly steeped in the tradition of the Dagara Tribe from Burkina Faso. Having made many pilgrimages to the villages in West Africa, learning and working with highly gifted shamans and diviners, she is known as an initiated Kontomble Voice Diviner. Liv works very closely with the Kontomble, also known as "Little People", meaning she listens to their words and speaks their language to share their wisdom and guidance with people all around the world.
Liv Mokai's practice has been working with people individually as well as facilitating healing in community for 12 years. More recently, her work has brought her into the international community where she is facilitating private and group divination and ritual retreats. She tours the world facilitating ritual reminding people of their true nature, which is deeper than our modern selves would have us believe.
For the past few years, Liv Mokai has been working with friends and researchers to help uncover the stories and memories of the "little people" around the world. She recently co-founded The Sacred Elemental Wisdom Institute with Dr. Katherine Coder to help empower women while they move into deep roots of earth-based spiritual practice for personal transformation and to assist others in their growth and healing as well. (https://clinicalsupplies.com.au/collections/rapid-antigen-tests)
I am honored to be able to offer this gift from Mama Gaia to bring her heartbeat through into tangible form. I will hold space for you to experience the magic of birthing your own medicine drum with your very own love, passion & energy entwined in its being. You will learn some basic shamanic traditions and rituals and as a final passage, I drum over each newly born drum to pass on the vibration of the linage of drums from the Ojibwe that has been passed down to each new drum for generations.
Since the age of twelve, Natalie started her journey towards spiritual healing as a result of being exposed to various spiritual teachers and healers.  Since then, she has developed a stronger and deeper connection with spirit in her own unique way and continues to build on that relationship. As the youngest daughter of Colombian and Indian immigrants growing up in suburban America, Natalie has always been curious about the countries and cultures her parents came from.  As she grew older, connecting with her ancestors started to become more important to her.  As a recent graduate of the California Institute of Integral Studies' Integral Counseling Psychology master's program, she sees more clearly how important it is to heal our ancestral lineages.  She holds the frame of psychotherapy as one of the ways to heal, not only the individual but the lineage as well.
For Natalie, healing our ancestral lineages is so important because the time for healing the traumas of being both oppressed and the oppressor is NOW. Acknowledging our own privileges and navigating the world with awareness around the ways we are consciously or unconsciously perpetuating these systems of oppression is the first step in healing that is needed in this world. Natalie will be offering a talk around inclusivity, following what she knows as "protocol", ways to walk in this world that both respects the spirits and original peoples of the lands, and she will facilitate an interactive discussion so we may discover together with other ways we can right the wrongs of the past. She believes by bringing light to the darkness of the past together in community, true healing can be done.
Sylvie will be offering daily yoga classes to support our beings during the training. Her first language was movement as she grew up in ballet and the world of dance, and it is a language she loves deeply. She is an RYT200 with a passion for creating sacred and safe spaces for movement practice in a ceremonial way. With a focus on trauma-informed and inclusive language, she strives to create a space that feels grounded, accessible, nurturing, and alive. Guided by intuition, she balances an awareness of safe alignment with gentle encouragement to explore emotional, energetic, and physical sensations, the elements, and the energies beyond our bodies. She also combines what she learned about expressive movement in dance to create a unique release of energy and to cultivate vulnerability within the space. She believes that a movement practice is for everybody and every level and enjoys finding safe pathways for each individual to practice this exploration in a way that feels good to them.
Florencia Barolin, LMT, is a medicine woman, healer, and bodyworker. Fifteen years ago she experienced a turning point that completely shifted her view of the world and of herself, revealing her gift and purpose, when she healed herself from cancer through a holistic approach. Since then she has dedicated her life to serving others and sharing the medicine she has harvested from her own personal deep work as well as from having studied with many great teachers.
Her healing work is characterized by her intuitive listening of the body and profound respect for each person's innate wisdom to heal themselves while she guides as a sacred space holder in which deep emotional release, transformation, and healing take place amidst unconditional love, kindness, and care.
Flo will be offering individual healing sessions working to upgrade the human body to integrate the energetic shifts of the new earth thru sacred geometry alignments, sound attunements, and integrative bodywork. This work activates light codes from the Whales, Florencia's ancestors and kin, to send through the human body. As we will be transforming and growing throughout our time together, this will help to support your system with integration. These shifts and transform energies in the vibrational body happen at an accelerated speed and the physical body must align to it to match the astral body of the earth. The more our physical body is in that alignment, the more we bring the new vibration into the physical earth.